On July 15th, Futabasha announced "Kumamoto Fukko" in collaboration with the Kumamoto prefecture, with the aim of revitalizing Kumamoto and supporting the reconstruction of the 2016 Kumamoto Earthquake, with the help of the Nohara family, who are the family of "Crayon Shin-chan". As a collaboration, it announced that it will promote the Kumamoto/Aso tourism campaign that will be implemented from this summer.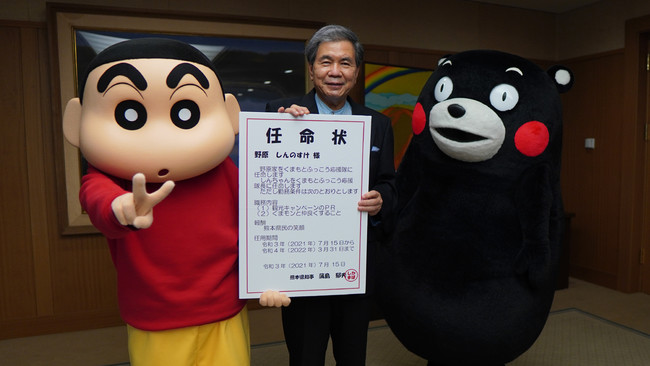 © Yoshito Usui / Futabasha / Shinei / TV Asahi / ADK © 2010 Kumamoto Kumamon © Neos Corporation
On July 15, "Shin-chan" was appointed as "Kumamoto Fukko Support Captain" on behalf of the Nohara family at the Kumamoto Prefectural Office. "Shin-chan," who was handed a letter of appointment directly from the governor, was motivated and vowed to play an active role as a captain.
The reason for the formation of "Kumamoto Fukko Support Team" was Shin-chan's mother, Misae. "Misae" is said to be from Aso City in Kumamoto Prefecture, and for "Shin-chan" it can be said to be the "second hometown" along with the birthplace of "Hiroshi" in Akita Prefecture. From that connection, we have been supporting the reconstruction of Kumamoto Prefecture by contributing donations to the Kumamoto earthquake from the profits of charity products at the "25th Anniversary Crayon Shin-chan Exhibition" held in 2016 at the Kumamoto venue. We have formed this time to work on the reconstruction support of Kumamoto and Aso by forming a solid tag with "Shin-chan" in Kumamoto prefecture.
The "Shin-chan Nohara Family" formed the "Kumamoto Fukko Cheering Squad" and made various efforts to enliven Kumamoto Prefecture as a PR character for the Kumamoto/Aso area tourism campaign "I'm fine! ASO" that will start this summer. Starting with the release of a dedicated smartphone app in August that allows you to enjoy a digital stamp rally around sightseeing spots with "Shin-chan", "Shin-chan" will appear in campaign posters, pamphlets, photo spots, etc. in the future, to enliven tourism in Kumamoto Prefecture.
*The digital stamp rally screen is under development.
*The actual specifications may differ.
To commemorate his inauguration, "Shin-chan" gave a special gift to the governor. He handed over a new Nintendo Switch software "Crayon Shin-chan" and Dr. Summer Vacation "-A Seven-day Journey That Doesn't End-" released on July 15th, the day of the inauguration ceremony, and asked him to play with it. This game is based on the story of "Shin-chan" spending summer vacation in "Aso", which is modeled after Aso city, and there are many spots modeled on real places such as Kumamoto Station, Kusachiri, Tsujunbashi, and Aso Station. It's like a real Aso, and you can feel like you're spending a summer vacation with Shin-chan.
The governor who holds the controller at the invitation of "Shin-chan". Actually, he was the first governor to touch the Nintendo Switch, but he enjoyed fishing and catching insects in the magnificent scenery modeled on Aso and Tsujunbashi. "The movement is also very good", he said.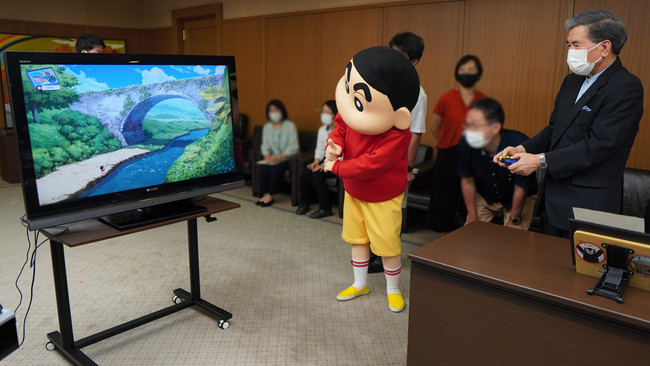 【Product Summary】
Nintendo Switch software "Crayon Shin-chan" Ora and Dr. Summer Vacation "-A Seven-Day Journey That Never Ends-"
Release date: Thursday, July 15
Price: Regular version 6,580 yen (tax included) / Premium package 8,980 yen (tax included)
Publisher: Neos
 


・「I'm fine! ASO」Official Site:https://kumamoto.guide/aso2020/
・ "Movie Crayon Shin-chan Mystery Meki! Hana no Tenkas Gakuen" Official Website: https://www.shinchan-movie.com/
・ "Crayon Shin-chan" official portal site: https://www.shinchan-app.jp/
・ "Crayon Shin-chan" Official Twitter: https://twitter.com/crayon_official
・ "Crayon Shin-chan" Ora and Dr. Summer Vacation "-A Seven-Day Journey That Doesn't End-" Official Website: https://game.neoscorp.jp/shinchan/
・ "Crayon Shin-chan" Ora and Dr. Summer Vacation "-A Seven-Day Journey That Doesn't End-" Official Twitter: https://twitter.com/crayon_natsu