Bandai Namco Group official online shopping site "Premium Bandai" is indispensable for talking about the history of Bandai's 2 big IPs, "Kamen Rider" celebrating its 50th anniversary and "Tamagotchi" celebrating its 25th anniversary on July 16th, 2021. The reservations for the two IP special collaboration items "Kamen Rider-chi (Genesis Green / Legacy Gold)" is now started.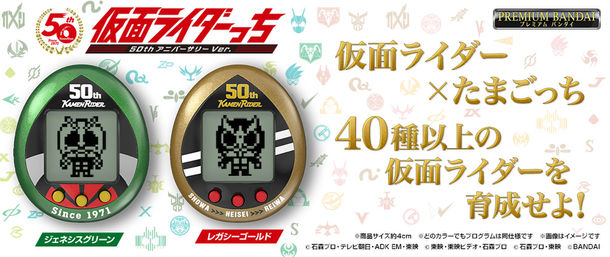 With this product, more than 40 types of "Kamen Riders" from the "Kamen Rider Series", which will celebrate its 50th anniversary in 2021, can be trained and raised, and you can experience the history of "Kamen Rider" with "Tamagotchi" as well. The product specifications are exactly suitable for each anniversary. More than 7 types of secret "Kamen Rider" are also here, and 40 types are the largest number in the "Tamagotchi nano (monochrome LCD & simple care)" series thus far.

The design of the main body is "Genesis Green" which imaged "Kamen Rider No. 1" and "Legacy Gold" which imaged the final power-up form that often appears in the history of "Kamen Rider" from Showa to Reiwa era.

The basics way to play is to take care of the character "Shonen Kamen Rider" at the start, or to play a mini game, so that you can develop into various "Kamen Riders". There are two types of mini-games, "Rider Kick" and "Challenge Ride", which follow the world view of "Kamen Rider". "Rider Kick" is a button push game while the "Kamen Rider" displayed on the screen is running. Hit repeatedly to win the game. "Challenge Ride" is a game in which Kamen Rider runs while avoiding obstacles.

This product is also planned to be sold at Kamen Rider stores (including pop-up stores). (Scheduled after late December)
* The content of the game is the same for all colors.
* Bandai does not sell protective sheets for LCD screens.


【Product Summary】
Kamen Rider-chi (Genesis Green / Legacy Gold)
Price: 2,530 yen each (tax included) (shipping and handling fees are not included)
Target age: 6 years old and over
Set contents: Kamen Rider-chi – 1 machine
Product size: H approx. 40 mm x W approx. 30 mm x D approx. 25 mm
Product material: Body – ABS / PC / SI
Production area: China
Sales channels: Bandai Namco Group official online shopping site "Premium Bandai", Kamen Rider Store, etc.
Reservation period: July 16th (Friday) 11:00 to August 17th (Tuesday) 23:00
Product delivery: Scheduled for December
Publisher: Bandai
* You can check the latest information and details on the product sales page.
* If the number of preparations is reached, sales may end.
* Sales may have ended when the page is accessed.
* Product specifications are subject to change without notice.
* The photos shown are under development and may differ slightly from the actual product.
* May be sold outside Japan.


・Bandai Namco Group Official Online Shop "Premium Bandai":http://p-bandai.jp/?rt=pr
・"Kamen Rider-chi" 50th Anniversary Ver.:https://p-bandai.jp/item/item-1000160474/?rt=pr