"Konica Minolta Planetarium TOKYO", "Konica Minolta Planetarium Manten in Sunshine City", "Konica Minolta Planetarium Sky in Tokyo Sky Tree Town (R)" will be hold an summer event which will screen a special movie "Pokemon: A message from Aurora" from July 17th to August 31st.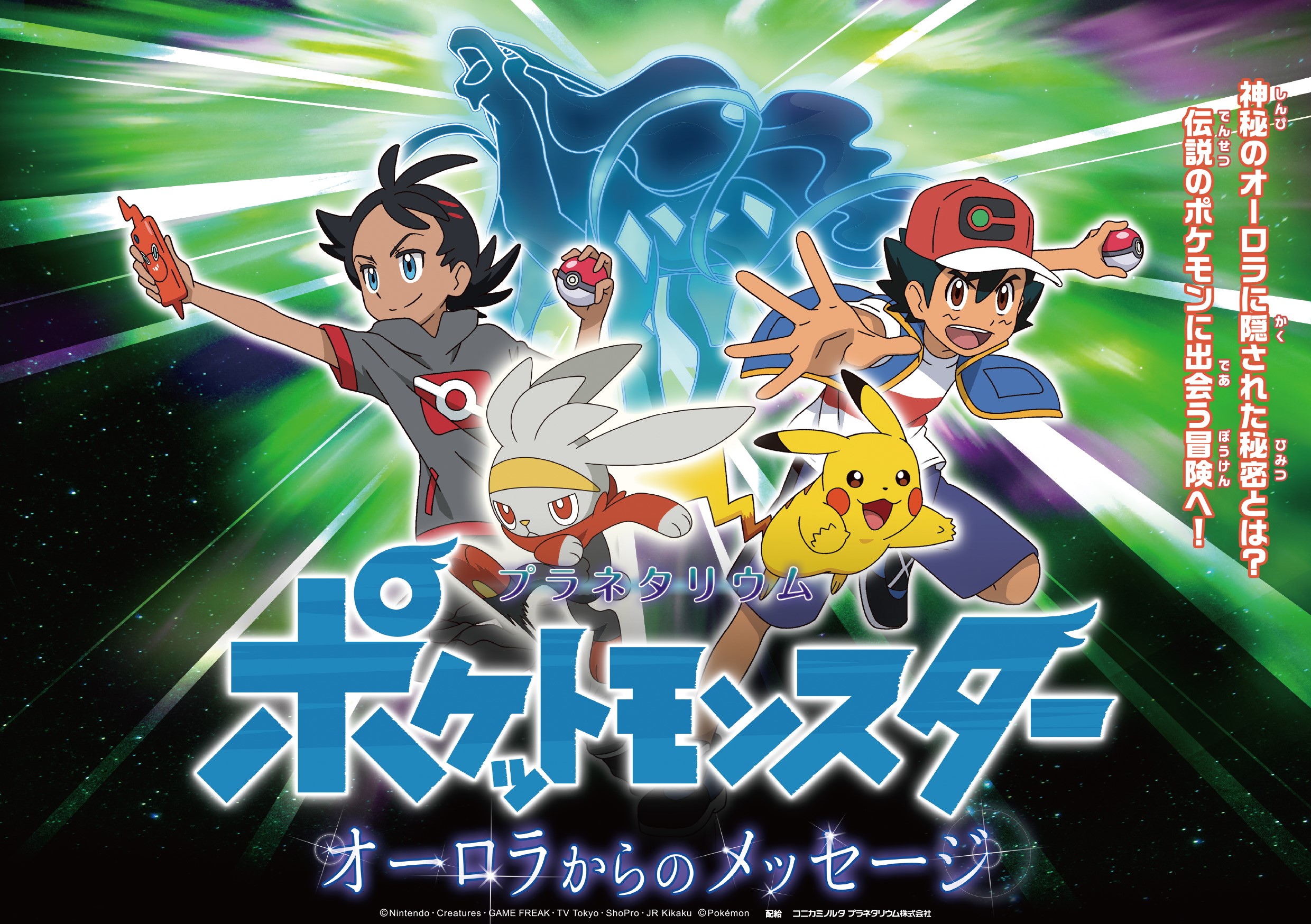 (R)Nintendo・Creatures・GAME FREAK・TV Tokyo・ShoPro・JR Kikaku (R)Pokemon

The planetarium work of the world-famous anime "Pokemon", "Pokemon: A message from Aurora" will be screened only during the summer vacation.
This work is a completely original story in which familiar characters such as Satoshi (Ash) search for Suicune, a so-called legendary Aurora Pokemon. You can enjoy the adventures that take place in the northern country of Aurora Village with powerful images unique to the planetarium.

Nana Mizuki, a popular voice actor, is in charge of the role of Emma, a girl whose father is an aurora researcher, the original character of this work. In addition, "Summer Constellation Guide" by Yoshimasa Hosoya at Planetaria TOKYO, while Planetarium Manten (Ikebukuro) and Planetarium Sky will be guided by Maya Sakamoto.

<Synopsis>
The sun has entered an active period, and there is a possibility that Suicune, a legendary Pokemon called Aurora Pokemon, will appear! Satoshi and Go go to Aurora Village to investigate the relationship between Suicune and Aurora as research fellows at the Sakuragi Institute.
There is an encounter with Emma, a girl whose father is an aurora researcher, and many Pokemon who live in the snowy fields. In front of Satoshi, a team of rockets appears trying to get Pikachu. Can they safely reach the aurora and meet Suicune???


【Movie Details】
Pokemon: A message from Aurora
Screening period: July 17th (Sat) – August 31st (Tue)
Screening time: Approximately 40 minutes
* Screening time varies depending on the day of the week and the season.
* The business hours of the facility may change depending on the times.
* Details can be found on the website of each facility.

・ "Planetarium TOKYO" (Yurakucho) Details: https://planetarium.konicaminolta.jp/planetariatokyo/program/planetarium1/summer_21/
・ "Konica Minolta Planetarium / Manten" (Ikebukuro) Details: https://planetarium.konicaminolta.jp/manten/program/planetarium/summer_21/
・ "Konica Minolta Planetarium Sky" (Oshiage) Details: https://planetarium.konicaminolta.jp/tenku/program/planetarium/summer_21/
・ "Planetarium TOKYO" official website: https://planetarium.konicaminolta.jp/planetariatokyo/
・ "Konica Minolta Planetarium / Manten" Official Website: https://planetarium.konicaminolta.jp/manten/
・ "Konica Minolta Planetarium Sky" Official Website: https://www.planetarium.konicaminolta.jp/tenku/