From June 7th, Mondelez Japan will start a "Chew refreshingly" campaign in collaboration with the "Clorets" brand, which delivers refreshing breath, and the TV anime "My Hero Academia." As part of the campaign, limited collaboration gum bottles with original designs (4 types in total) will be on sale for a limited time from the same day.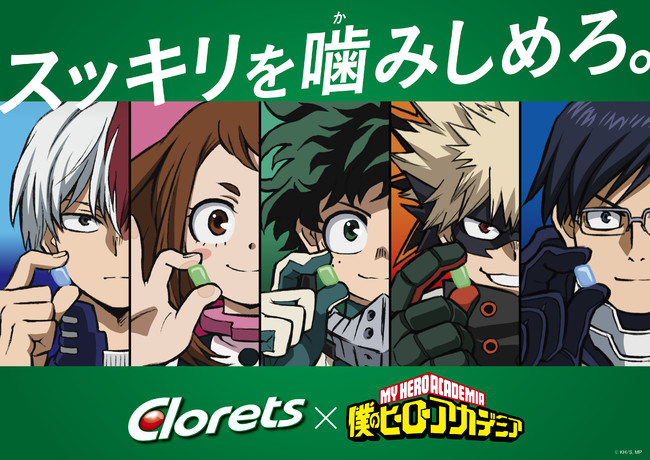 © Kohei Horikoshi / Shueisha / My Hero Academia Production Committee
"My Hero Academia" (commonly known as "Heroaka") is a TV anime based on the popular manga comic by Kohei Horikoshi, which is serialized in "Weekly Shonen Jump" (Shueisha). It depicts the growth, battle, and friendship of high school students who aim to become "heroes" who protect people and society in the various difficulties that occur in a world where 80% of the total population has supernatural ability "individuality".

In the spring of 2020, the "Clorets" brand started various measures as a brand that is close to young people working in an environment that has changed significantly due to the coronavirus pandemic. Through for this collaboration, by refreshing not only breath but also feelings with "Clorets", we would like to send an ale for them to move forward even in difficult situations like the characters of "Heroaka".
 
There are 4 types of collaboration packages of "Heroaka" and "Clorets Original Mint Clear Mint Gum" to be released this time. Combining the two types of designs featuring the 1st year Class A of UA High School Izuku Midoriya, Katsugi Bakugo, Ochako Uraraka, and Tenya Iida, Shoto Todoroki, Asui Tsuyu, Eijiro Kirishima, Yaoyorozu Momo, Kaminari Denki and Jiro Kyoka. In addition, there is a lineup of pop designs using the deformed illustrations of Class 1A and cool designs with the main visuals of the 5th season of the TV anime being broadcasted.
 

In addition, in the "Chew refreshingly" campaign that will start on June 7, original goods that fans can only get in this campaign, such as high-definition reproductions of 30 limited-edition illustrations, will be available. We are planning to carry out a plan to present by lottery. Details of each campaign will be announced at a later date.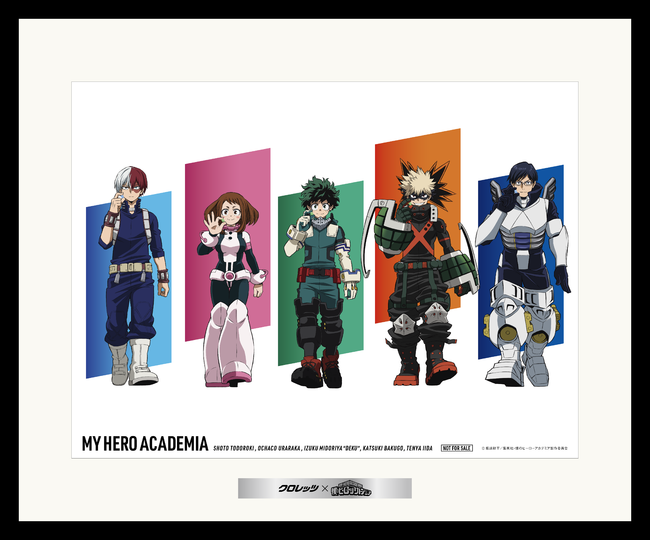 【Product Overview】

<About My Hero Academia>
The 5th season of the TV anime series is currently being broadcasted every Saturday from 17:30 on the Yomiuri TV / NTV 29 stations nationwide (*except for some areas), and on August 6th, the 3rd original movie "My Hero Academia THE MOVIE: World Heroes Mission" will be released nationwide.
・TV Anime "My Hero Academia" Official Site:https://heroaca.com
・TV Anime "My Hero Academia" Official Twitter:https://twitter.com/heroaca_anime
・ "My Hero Academia" Movie Official Site:https://heroaca-movie.com/
・"My Hero Academia" Movie Official Twitter:https: //twitter.com/heroaca_movie