The collaboration between the virtual singer "Hatsune Miku" developed by Crypton Future Media and the character "Esther Bunny" drawn by popular illustrator Esther Kim has been announced. The collaboration illustration was released for the first time on March 29th. This collaboration was realized as part of the "Miku World Collab" project, which promotes collaborations between "Hatsune Miku" and popular international IP (Intellectual Property).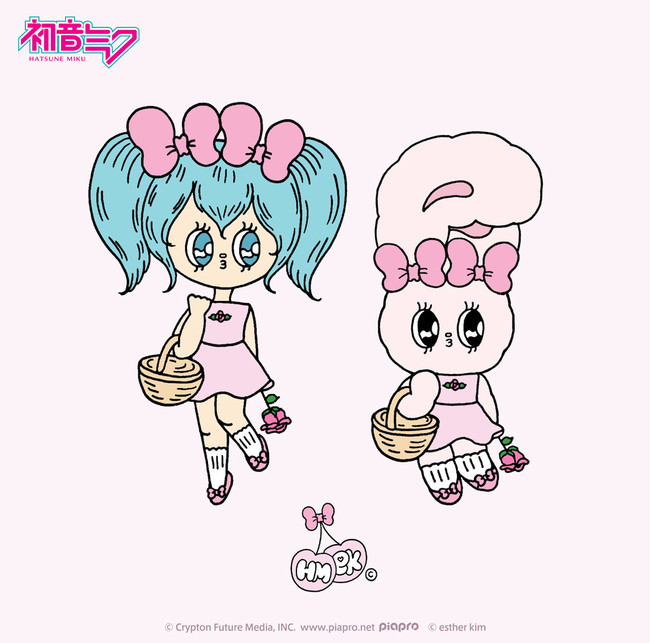 © Crypton Future Media,INC. http://www.piapro.net piapro © esther kim
"Esther Bunny" is a POP and girly rabbit character designed by Korean-American artist Esther Kim. The reason why the line of sight and the direction of the ears are not straight is that the antenna is always stretched around. Esther Kim, who was born in Los Angeles and spent her teens in Tokyo, has a unique world view created from her experience of diverse cultures and values. It is attracting attention through collaborations with popular Korean and Japanese fashion brands and cosmetics miscellaneous goods, and is gaining popularity mainly among teens.


In this collaboration, a cute and fashionable collaborative illustration by Esther Kim was created. In addition, collaboration illustrations by designers from Crypton will be released at a later date, and promotional goods development using each collaboration illustration is scheduled for the end of 2021.
Information related to "Miku World Collab" will be announced from the official Twitter account. We will announce when the goods will be on sale as soon as they are confirmed. Crypton will continue to collaborate with various creators with a view to the world.


・Hatsune Miku Official Twitter(Japanese):https://twitter.com/cfm_miku
・Hatsune Miku Official Twitter (English):https://twitter.com/cfm_miku_en
・piapro.net:https://piapro.net/
・「Esther Kim」Official Site:http://www.estherlovesyou.net/
・Crypton Future Media Official Site:https://www.crypton.co.jp/