Gokurakuyu is having a collaboration campaign with the popular TV anime "Attack on Titan" The Final Season, currently being held at 32 Gokurakuyu RAKU SPA Group stores from March 5th. The new event "Sauna Day" is also being held.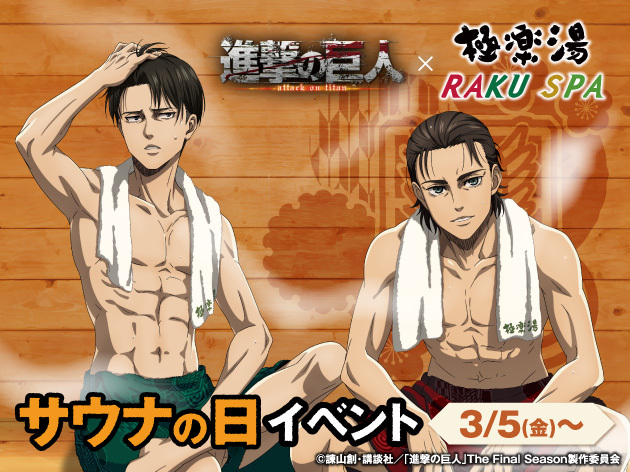 【Event Details】

Event period: March 5th (Friday) – April 11th (Sunday)
Event stores: Gokurakuyu / RAKU SPA Group 32 stores
Contents:
1.Sauna People set sale
When you enter the store, if you pay the entrance fee + the fee for the Sauna People set, you will get a random collaboration limited towel using the newly drawn sauna illustration.
<Sauna People set>
All 2 types of towels Admission fee + Sauna people set fee 770 yen (tax included)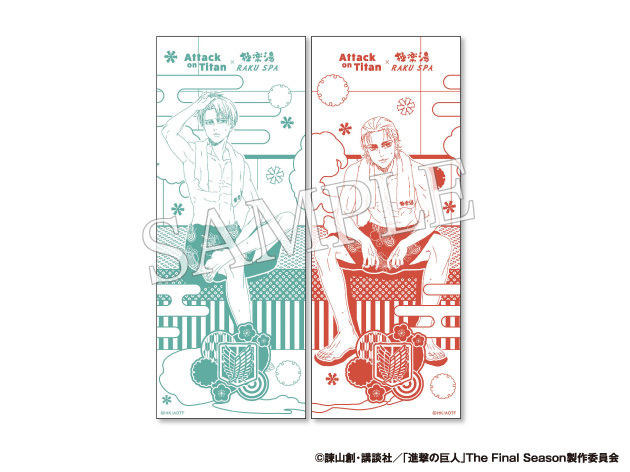 2.Limited items sale
Collaboration limited items using newly drawn sauna illustrations are on sale at the store. Acrylic stand and clear file will also be released. (Some are also sold at Gokurakuyu official online shop)
In addition, the official online shop of Gokurakuyu will sell tapestries limited to online shops and posters of panel designs that appeared in the collaboration bath in response to customer requests.

<Sale items>
Acrylic stand (sauna) All 2 types 1,980 yen each (tax included)
Clear file (sauna) 550 yen (tax included)
 
<Online Shop Limited Items>
Tapestry (sauna) 5,808 yen (tax included)
Collaboration bath panel design poster A1 / A2 size 1,848 yen / 1,518 yen (tax included) 
3.Twitter Post Collaboration Post Card Presents
If you post the photos related to "Attack on Titan" collaboration "Sauna" such as the tapestry of the newly drawn sauna illustration on Twitter with the hashtag "#Sauna Day" after following Gokurakuyu / RAKU SPA (official) Twitter, and show them to the store staffs, we will give you a limited edition postcard.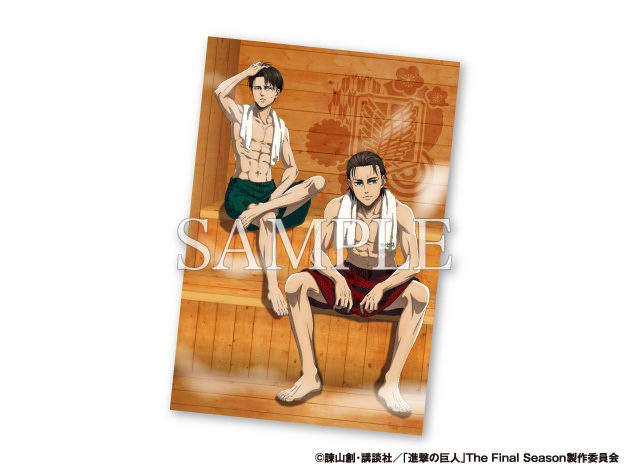 4.Photo Spots
A poster of "Sauna Folk Theater" using a tapestry of newly drawn sauna illustrations and scene photos of Attack on Titan will appear.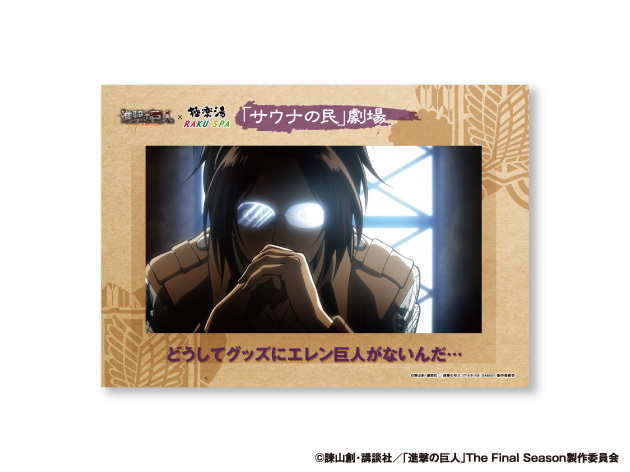 The following content will continue to be held until April 11th (Sun).
1. Collaboration coasters <12 types of collaboration limited coasters>
Collaboration menu is sold at the restaurant. When you order the collaboration menu, you will receive a random collaboration limited coaster using the newly drawn illustrations.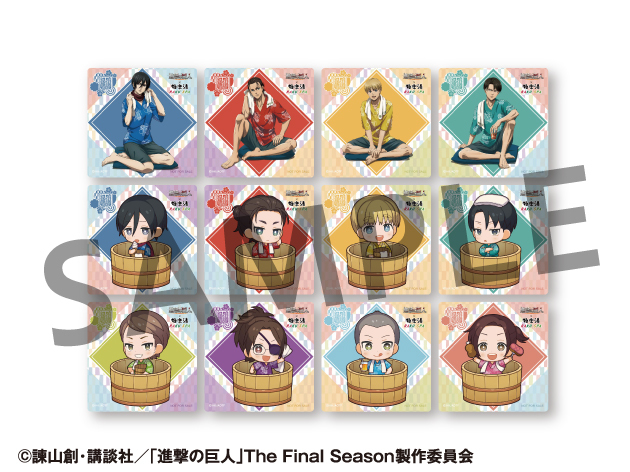 <Collab Menu 5 types>
Eren's bandage round and round parfait 1,188 yen (tax included)
Mikasa's red tomato ramen 1,408 yen (tax included)
 

Armin's mushroom-scented porcini omelet rice 1,848 yen (tax included)
"The captain also sleeps! ??" Levi's 3-tier hamburger 3,278 yen (tax included)
"Survey Corps new equipment!" Seafood squid ink pasta 1,848 yen (tax included)

 <Collab drinks 5 types>715yen each(tax included)
Eren's strawberry soda float
Mikasa's lychee soda float
Armin's mandarin orange soda float
Levi's Muscat Soda Float
Hange's purple soda float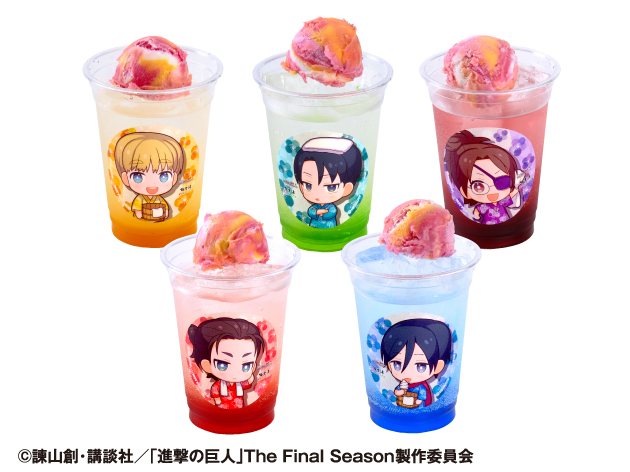 2.Collab bath
A collaboration bath with the image of each character is taken placed. During the collaboration bath, bathroom panels and mini character tapestries that match the characters are also available.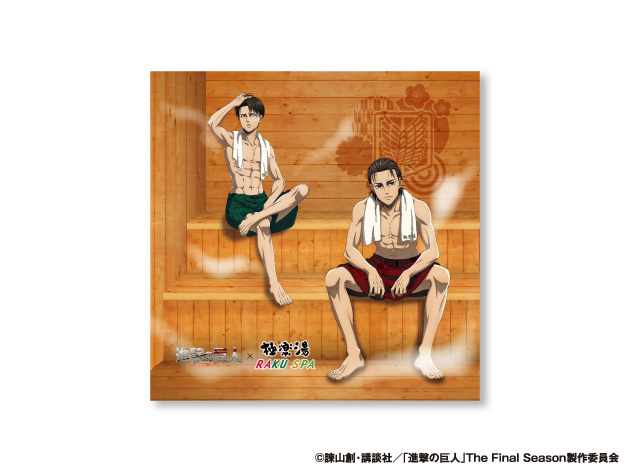 3.Hot springs wear rental
At 4 RAKU SPA stores, you can rent a limited number of clothes in collaboration with Eren's illustration on a first-come, first-served basis.
In addition, you can rent in-house clothes that resembles a titan, limited to one person per day at each store.
<In-house wear>
Collaboration indoor wear rental 330 yen (tax included)
Super-large titan wear rental 330 yen (tax included)

 4.Birthday Plan
As Eren's birthday, a collaboration bath, limited-quantity menu sale, and special design tapestry will appear during the period from March 24th (Wednesday) to April 2nd (Friday).
In addition to the collaboration limited coaster, you will receive a postcard with his birthday specifications when ordering his birthday limited menu.
<Birthday Special Menu+Post card>
"Happy Birthday Eren!"Chocolate and Raspberry Cake 1,958 yen(tax included)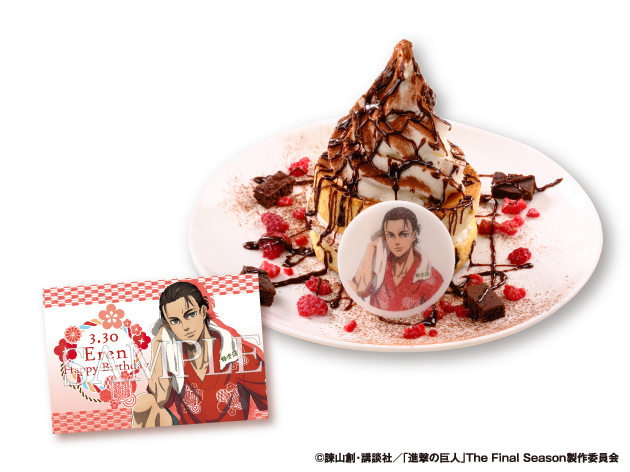 5.Photo Spots
You can enjoy a life-sized panel of newly drawn illustrations, a banner, a tapestry, and a poster of "Furo no Min Theater" using scene photos of Attack on Titan.
* The contents are subject to change without notice.
* Details of each collaboration, precautions, and target stores can be confirmed on the collaboration site.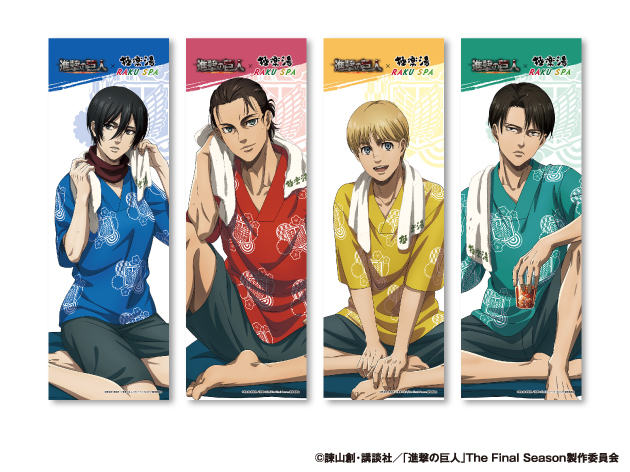 ・Gokurakuyu Official Site:https://www.gokurakuyu.ne.jp/
・RAKU SPA Official Site:https://www.rakuspa.com/
・「Attack on Titan×Gokurakuyu・RAKU SPA」Collaboration Site:https://rakuspa.com/shingekinokyozin/
・Gokurakuyu Online Shop:https://eshop.gokurakuyu.ne.jp/
・TVanime「Attack on titan」Official Site:https://shingeki.tv/final/
・「Attack on Titan×Gokurakuyu・RAKU SPA」Collab video(1):https://youtu.be/qunv5c-OQIc
・「Attack on Titan×Gokurakuyu・RAKU SPA」Collab video (2):https://youtu.be/mhILveJQzfU