On February 16th, Kanro, which everyone is familiar with Kanro candy and puregumi, released "Colored Pencil Candy" in collaboration with the popular French picture book character "Barbapapa".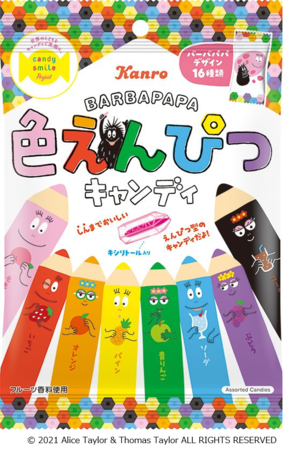 In the past year, the demand for confectionery that families consume is increasing due to the increased time for parent-child communication due to the coronavirus. Therefore, from the desire to "promote communication between parents and children and increase smiles", the company's products "Colored Pencil Candy" x "Barbapapa" collaboration is released.
 
"Barbapapa" is a character that has been loved all over the world with a story centered on heartful episodes since it was first created in France in 1970. In Japan as well, the cumulative sales of the picture book series has exceeded 6.5 million. Last year, celebrating the 50th anniversary of its birth, the popular character that has been familiar to children for a long time from a story about the warmth of the family, and Barbapapa, a family of 9 people, develops 8 kinds of flavors of candies. Kanro's "colored pencil candy" has a high affinity for having colorful varieties, which led to this collaboration.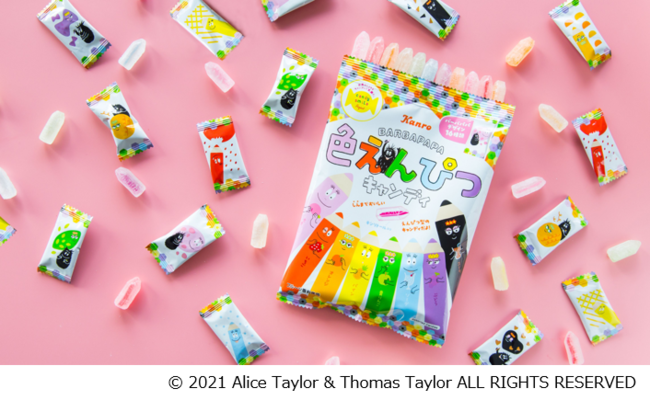 Furthermore, Kanro has set "sustainable management" as its management policy and is proceeding with activities in accordance with the guidelines of the SDGs, and "Colored Pencil Candy" is one of the concrete measures, such as "Candy Smile Project" participating in "Save the Children" program. It matches the character of Barbapapa, who continues to send messages related to SDGs such as environmental issues in picture books, and this product also has an aspect as ethical consumption that can contribute to society.

The collaboration product appears in a collaboration package with "Barbapapa" transformed into colored pencils. The packages also have 16 types of "Barbapapa" designs, so you can enjoy eating while watching which characters will come out. Also, pay attention to the playful candy grains. It is a candy-shaped bar that you can see the core of each color in the transparent candy, and it is nice to choose soda flavor, grape flavor, strawberry flavor, thigh flavor, orange flavor, pine flavor, green apple flavor, or cola flavor: 8 flavors in total.
In addition, along with the release of collaboration products, "Barbapapa & Colored Pencil Candy Collaboration Memorial! Twitter Fortune-telling Campaign" will be held. A set of colored pencil candy that parents and children can enjoy and the "Barbapapa Maruman Miniature Croquis Book" will be presented.


【Event details】
"Barbapapa & Colored Pencil Candy Collaboration Memorial! Twitter Fortune-telling Campaign"
Campaign period: February 16th (Tuesday) to 22nd (Monday)
Prize: 6 bags of colored pencil candy + "Barbapapa Maruman Miniature Croquis Book"
Number of winners: 10
Application method:
Follow Kanro official account and PLAZA official account on Twitter.
② Click the "Barbapapa" specification fortune-telling tweet for this campaign (hereinafter referred to as "designated tweet") tweeted by the Kanro official account on the first day of the application period.
Click to check the fortune-telling result.
Quote and retweet the specified tweet. At the same time, when quoting and retweet, declare the result of fortune-telling roulette.


【Product Info】
Colored Pencil Candies
Price: 198 yen (tax included) * 8% consumption tax
Contents: 80g
Sales area: Japan nationwide, all channels
Features: A cute colored pencil-shaped colorful assorted candy in collaboration with "Barbapapa"
・ "Kanro" official website: https://www.kanro.co.jp/
・ "Kanro" official Twitter account: https://twitter.com/kanro_pure
・ "PLAZA" official Twitter account: https://twinavi.jp/account/detail/PLAZASTYLE