On March 8th, Kracie Home Products will release a limited number of "Sumikko Gurashi" collaboration design products from "Naive" body soap, which is made from 100% plant-based wash ingredients.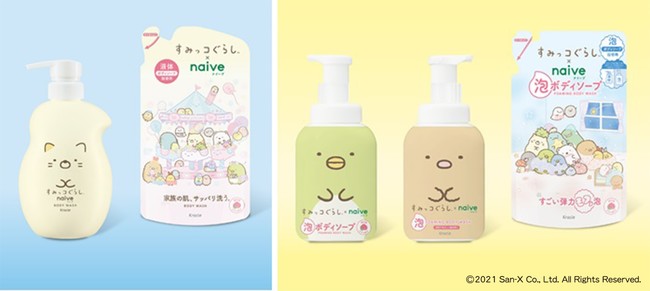 "Sumikko Gurashi" won the Grand Prix at the "Japan Character Award 2019", and the number of viewers in the movie "Sumikko Gurashi Tobidasu Picture Book and Secrets" released in November 2019 was 1.2 million. Break through. The second movie is scheduled to be released in 2020, and it is a popular healing character for mothers and children.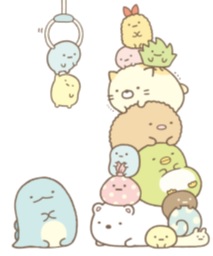 In 2020, "Naive", which cleanses the skin of the whole family, released the first limited collaboration design product with "Sumikko Gurashi", which allows parents and children to smile with a smile, and was well received. And in 2021, the second collaboration was released.
The design of the second product is the shy "cat" for the body soap, and the unconfident "penguins?" and the leftover (?!) "Tonkatsu" for the body soap that comes out with foam. The designs are placed on the front and back. For refilling packages, the characters are playing in a merry-go-round, and they are wrapped in a fluffy blanket and gathered in the "corner" of the room in gentle colors.


【Product Info】
Naive Body Soap (with peach leaf extract) Sumikko Gurashi
Capacity: Pump / 530mL / Refill / 380mL
Price: Open
Naive Body soap, comes out with foam Sumikko Gurashi
Capacity: Pump / 500mL / Refill / 450mL
Price: Open

Product Release date:March 8th(Fri)
Sale Channel: Drug stores and supermarkets nationwide



<Product Characteristics>
・ 100% plant-based "vegetable amino acid-based cleaning ingredient MIX" (cocoyl threonine Na, cocoyl glutamic acid 2Na, cocoyl glutamic acid Na) is included. It can be washed with a gentle lather, refreshed, and leads to a smooth finish.
・ "Bare skin healthy ingredient" (acetylglucosamine, DPG <<moisturizing ingredient>>)
The combination protects the amino acids of the skin and can be washed while keeping the moisture.
・ Contains "peach leaf extract" (moisturizing ingredient) to create a fresh and smooth skin.
・ Gently wash children's delicate skin.
・ No colorants, mineral oil, silicone, or parabens.
・ Allergy tested.
・ Natural and gentle peach scent.


・Kracie「Naive」Official Site:https://www.kracie.co.jp/naive/
・「Sumikko Gurashi」Official Site:https://www.san-x.co.jp/sumikko/