On December 1st,"Pip Erekiban for mama", a limited package of San-X's popular character "Sumikko Gurashi", from the "Pip Erekiban" series of magnetic therapy devices that improve blood circulation and loosen stiffness with the power of magnetism. It will be sold in limited quantities at stores, mass retailers, wellness mail orders, and so on.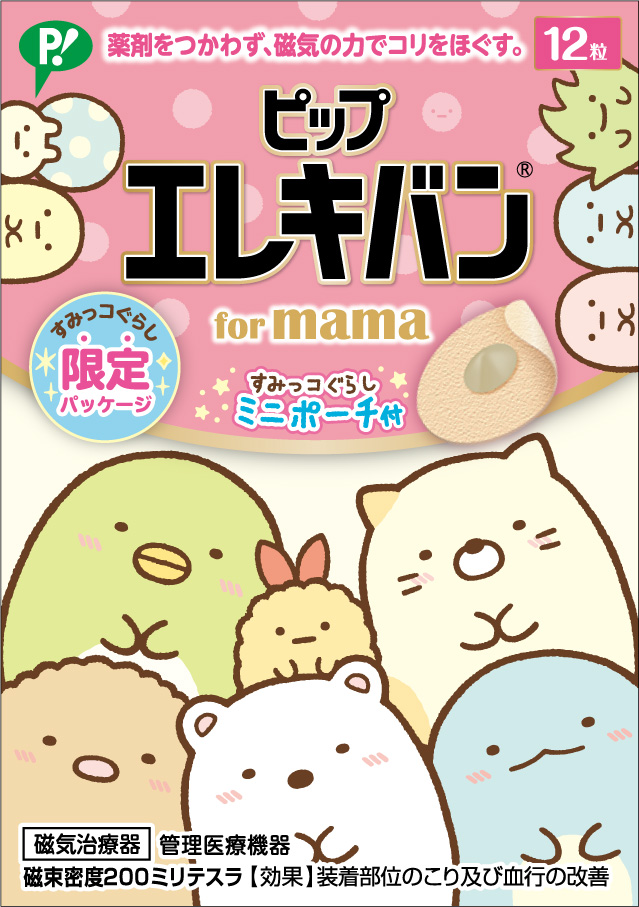 ©2020 San-X Co., Ltd. All Rights Reserved.
The Pip Erekiban series is drug-free and does not have the odor, so it can be used in a variety of situations. Among them, "Pip Erekiban for mama" is a magnetic therapy device that pursues the ease of use unique to child-rearing moms. A magnet with a color that fits easily on the skin is used so that children do not mind even if it is attached. In addition, by changing the position and size of the package opening, a safe design that prevents accidental ingestion by children. It is a product that is easy to care for stiffness just by pasting it.
This time, the cute visual of "Sumikko Gurashi", which is loved by all generations, is used for the design. Like "Sumikko Gurashi," which gives a sense of security with a warm appearance, Pip Erekiban for mama expresses the desire to become a "calm existence" for mothers who work hard every day. It improves the stiffness of mothers who are too busy to put themselves off, and supports them to have fun raising children.
The package is a design that expresses the cuteness of the character on the whole surface and makes you want to pick it up. If you look closely at the package, you may find Sumiko who are tapping their shoulders. In addition, it comes with a convenient dedicated mini pouch that allows you to carry Pip Elekiban. The size is easy to use and fits in a makeup pouch or bag, so you can easily take care of it whenever you are out and worried about stiffness.
【Product Info】
Pip Elekiban for mama
Price: 200 millitesla / 12 tablets / open price
Effect: Improvement of stiffness and blood circulation at the wearing site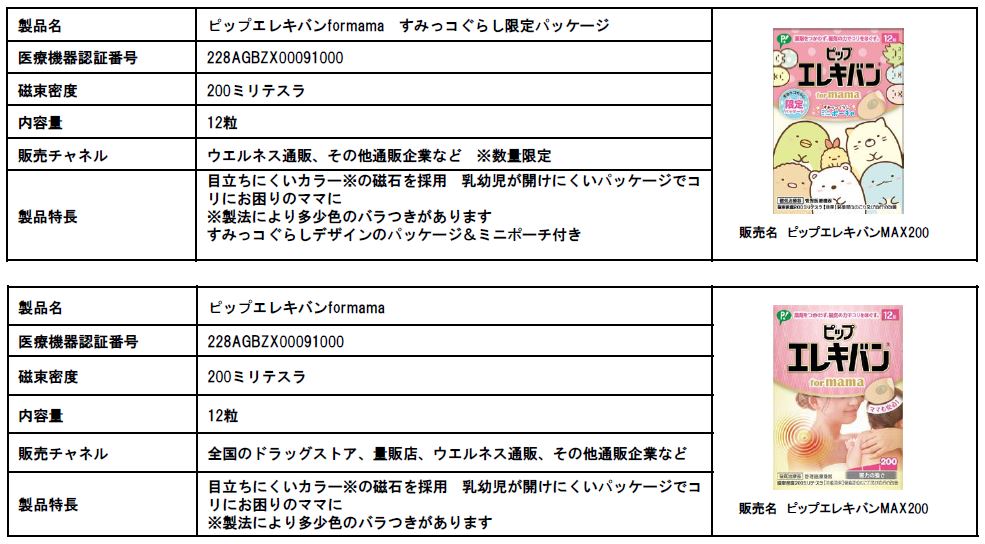 ・"Sumikko Gurashi" Official Site:https://www.san-x.co.jp/sumikko/
・Pip Product Page:https://www.pipjapan.co.jp/products/
・Pip Elekiban Site:https://www.elekiban.com/
・Pip Wellness Online Store:https://pip-wellness.com/
・Pip Elekiban Official Twitter:https://twitter.com/pip_cp