From October 3rd, Don Quijote started selling a limited number of goods in collaboration with the Yomiuri Giants and Kizuna AI, the world's first virtual YouTuber.
* Other than the company's stores, it is sold at Tokyo Dome's directly managed stores and the official online store of the team, "Giants Online Store".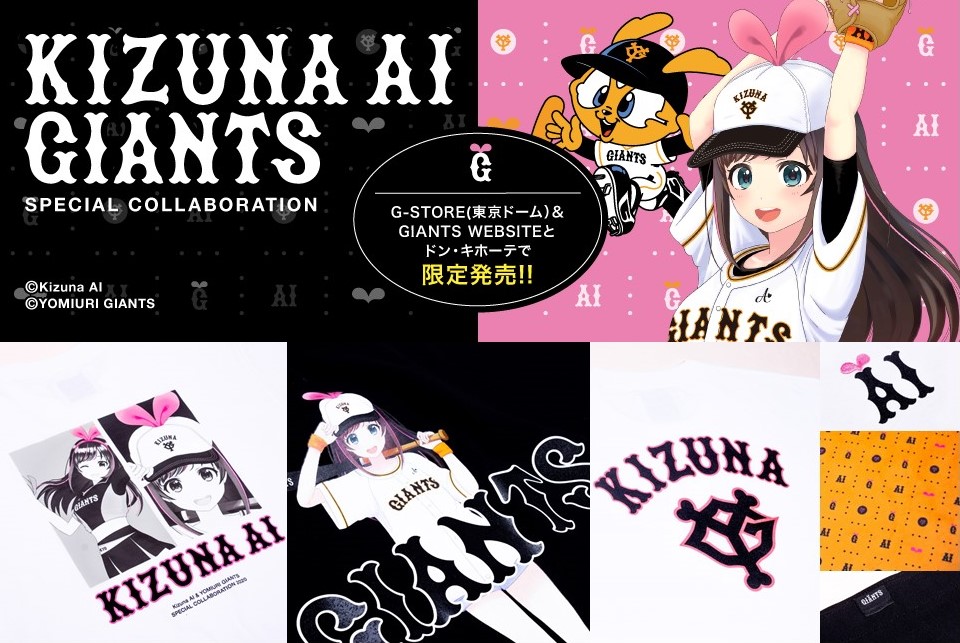 ©Kizuna AI
©YOMIURI GIANTS
In this collaboration campaign, "Kizuna AI" appears in a cute pose of "Pitching ver." with a glove and "Batting ver." holding a bat, both wearing a Giants uniform. In addition, each item has three types of visuals, including "Cheer ver.", which shows a cheerful mood in the same outfit as the team's official mascot girl "Venus" (excluding some products). The bright and cute atmosphere of "Kizuna AI" matches with uniforms and costumes, further enlivening the cheerful mood.
As a symbol of this collaboration, a special logo with the motif of "Kizuna AI" "Pyoko Pyoko (heart-shaped Katyusha)" and Giants "G" mark was also born. Baseball caps and stainless steel bottles with this logo as one point are items that can be used everyday with their casual cuteness. There are also limited edition items that can only be obtained at Don Quijote.


【Product details】(Prices excluding tax)
T-shirt (Batting & Cheer Ver.) [White / Black / Pink] 5,400 yen / size (M, L)
Fleece hoodie (Pitching Ver.) [White / Black] 7,500 yen each / size (M, L)
Coach JK (Batting & Cheer Ver.) 9,800 yen / size (M, L)
Total pattern hand towel [white / black] 1,500 yen each
Baseball cap 7,000 yen
Stainless bottle 6,500 yen
Tote bag (Batting & Cheer Ver.) [Off-white / black] 4,000 yen each
Long socks [white / black] 2,500 yen each
Short socks [white / black] 2,300 yen each
Wristband [white / pink] 2,700 yen each
iPhone case (Batting & Cheer Ver.) 3,600 yen
Mobile battery (Batting & Cheer Ver.) 4,800 yen
Bead cushion (Pitching Ver./Batting Ver.) 5,000 yen each
Bead cushion (Cheer Ver.) 3,500 yen

<Don Quijote Limited Edition Items>
T-shirt (Batting Ver.) [White / Black] 5,400 yen each / size (M, L)
T-shirt (Logo Ver.) [White / Black] ¥ 5,400 / size (M, L)
GIANTS x Kizuna AI Collaboration Acrylic Stand (Batting Ver./Cheer Ver./Pitching Ver.) 990 yen each