"Crayon Shin-chan" is celebrating its 30th anniversary this year. "New Crayon Shin-chan", which is currently serialized in "Monthly Manga Town" (published by Futabasha), also celebrates its 10th anniversary. "Crayon Shin-chan 30th Anniversary Project" will be launched to celebrate the milestone of the national character that continues to be loved worldwide.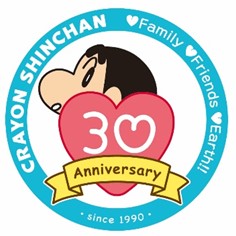 (C) Usui Yoshito / Futabasha
"Family" and "friends" are the major elements in this series. In addition to that, with the great purpose of delivering a smile to all people living on the "earth" in the great anxiety due to the spread of coronavirus. "Crayon Shin-chan" celebrating its 30th anniversary will make you feel super energetic.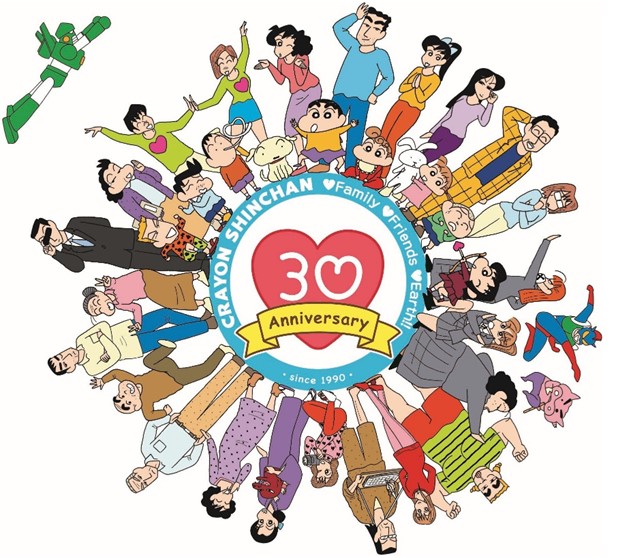 <Topic 1>
A new episode series has started from the September issue of "Monthly Manga Town" (released on August 5). A new member is born in the Nohara family! ? In addition, related books such as "Crayon Shin-chan Shinzen Daizen 2020 supplement edition", "Hiroshi Nohara no Yume Messhi no Ryu", the 7th volume of "Crayon Shin-chan Shin-chan", which is the 10th year since the series started, are released one after another.
<Topic 2>
"30th Anniversary! Crayon Shinchan Tribute to Call Arashi" is held on Futabasha's web comic site "Web Action". To celebrate the 30th anniversary, almost 30of the popular writers wrote their favorite episodes after one another for 10 weeks consecutively.

Artists: Masashi Ueda, Hiromi Morishita, Mitsutoshi Furuya, Satoshi Takaguchi, Kentaro Ueno, Keiichi Tanaka, Munemi Takano, etc.
Scheduled Release date: Friday, August 21 (Web Action)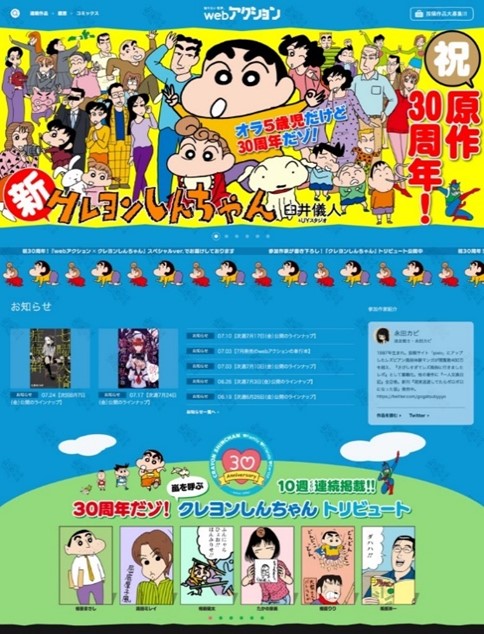 "Crayon Shin-chan 30th anniversary commemoration! Arashi pop-up shop" is held in Ikebukuro, Tokyo and Umeda, Osaka. The decoration with the motif of a kindergarten bus will entertain the fans. Many goods using commemorative art will also be released.
Sales stores:
Junkudo Bookstore Ikebukuro Store: August 18th-September 8
MARUZEN & Junkudo Shoten Umeda Store: August 19-September 9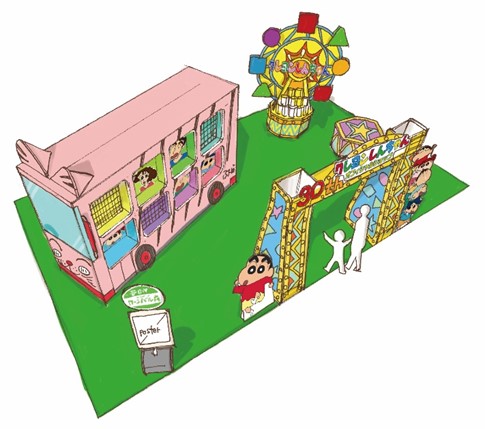 Reference
Web Action Site:https://comic-action.com/