Escrit, which plans and operates weddings and receptions as its main business, will produce the first wedding plan with the popular character "Rilakkuma" of San-X from mid-July, and the reservation will start for the "Rilakkuma Bridal Fair" (free wedding consultation event).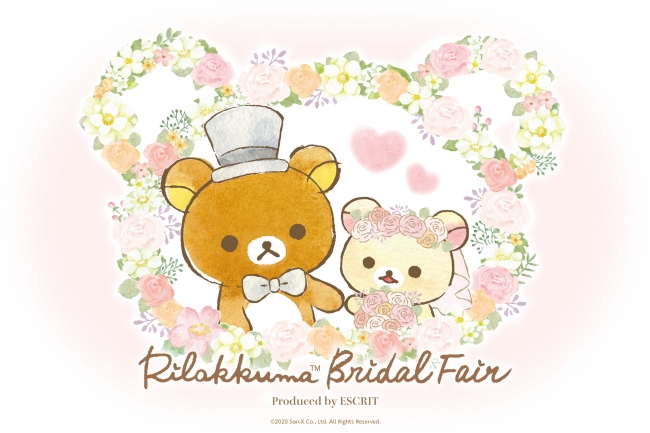 ©2020 San-X Co., Ltd. All Rights Reserved.
With the fear of decline for the rate of marriage and weddings, Escrit is planning boost up the bridal industry with the full use of our strengths of in-house dress, flower, service, and so on. In order to make tie-ups and make the wedding feel more familiar, we have continued to send out various bridal fairs and attractive contents.
In this collaboration with "Rilakkuma", we will prepare various wedding items such as welcome boards, cake toppers, and desserts. In addition, pre-registration has started on the official website of "Rilakkuma Bridal Fair", which is open from June 17. If you register your e-mail address in advance, you will be notified when the reservation starts in mid-July, and the latest information will be distributed until the reservation starts.
Escrit, which handles about 8,000 weddings a year, aims to the diversifying needs and motivations of weddings and works to revitalize the market.
■ Directly managed store
<Metropolitan area>
Laguna Ver AOYAMA, Rozanjuia, Laguna Ver TOKYO, The Magnus TOKYO, Charmantina TOKYO, Angelion O Plaza TOKYO, Almarian TOKYO, Lumival TOKYO, Minamiaoyama Santa Chiara Church, Palazzo Ducale Azabu, Laguna Suite Hotel & Wedding Shin-Yokora, Laguna Ver. Laguna Vale Atelier
<Tokai>
Laguna Suite Hotel & Wedding Nagoya, Laguna Veil NAGOYA
<Kansai>
A La Mode Palais & The Resort, Ragnavere PREMIER, Ragnavere OSAKA, La Vimana Kobe
<Chugoku>
Ragnavale Hiroshima
<Kyushu>
Almarian FUKUOKA
<Tohoku>
Ragnavale SENDAI
<Hokuriku>
Ragnavale KANAZAWA
<Okinawa>
Saint Legend OKINAWA

■ Management service
Le Criamore, Toku Navi Wedding, Brideal, Photo Wedding Smakri, Party Hunter
■Contract management and consulting
Fish Bank TOKYO, Kobe Bay Sheraton Hotel & Towers
■ Escri Management Partners Operation Store
Rafine Mariage Guest House, Wesuien/Shounkaku, La Porte The Live Rally, La Porte Rhythm Reef, La Blanche Toyama, Queens Court Grand Chario, Charme de Nature, Saint Michel Garden Wedding, Aver Blanche
・Rilakkuma Bridal Fair Official Website:https://rilakkuma-wedding.escrit.jp/
・Escrit Official Site:https://www.escrit.jp/