"Hagoromo & King Oscar Oil Sardine," imported and sold by Hagoromo Foods, has been collaborating with a popular character "Char Aznable" from the nationwide famous "Mobile Suit Gundam" anime starting from May 14th.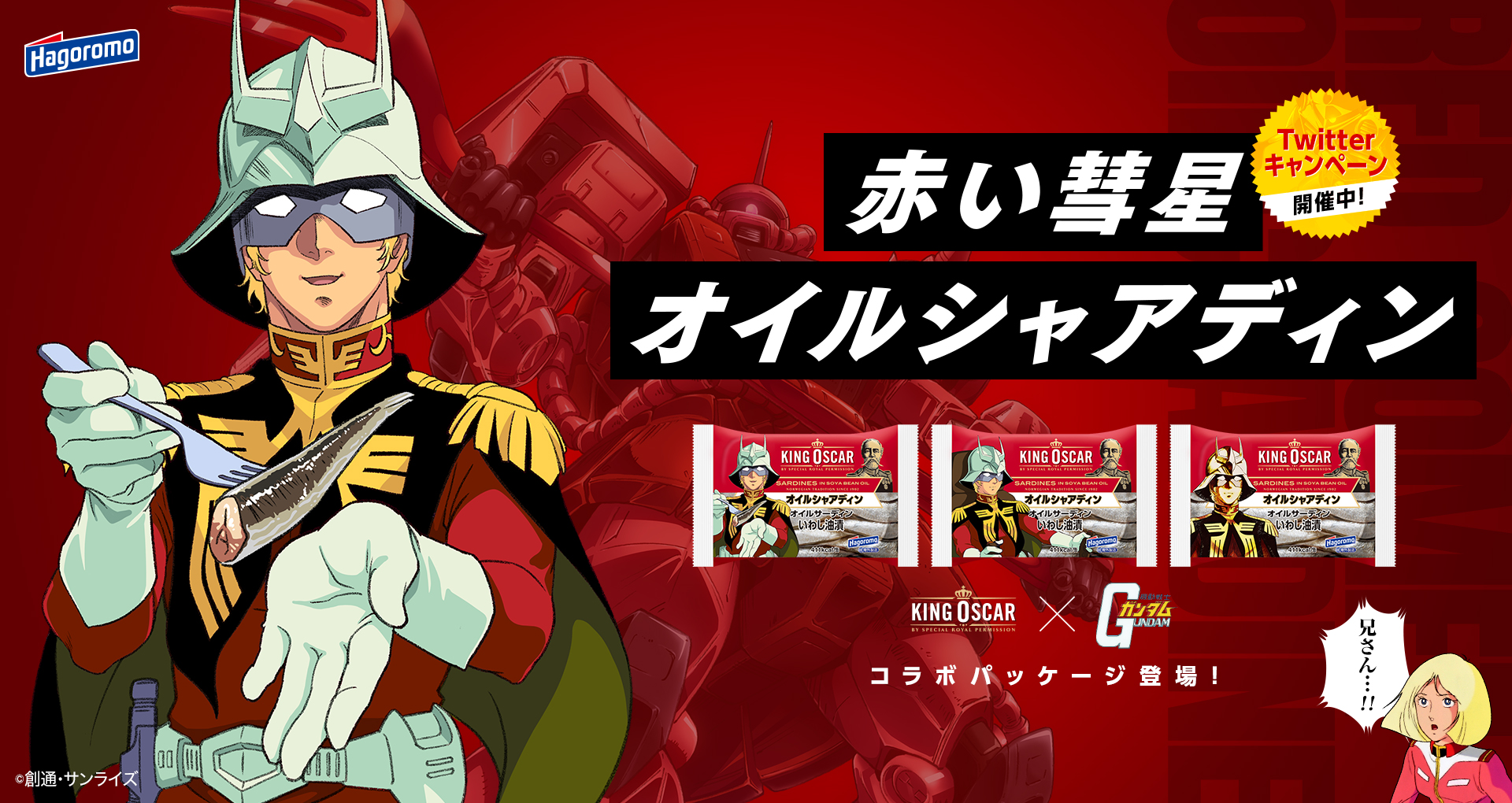 This time, on the special website released to commemorate the release of the limited collaboration package "Oil Charadine(Sardine)" drawn by character designer Tsukasa Kotobuki, a special collaboration video is released with the help of Shuichi Ikeda, Char Aznable's voice actor. Char, who drinks alcohol at the bar, reminds will remind you of the famous scene of "Mobile Suit Gundam" with his famous phrases "I'm lucky I met this sardine", "This softness, I'm a gourmet man", which introduce the charm of Oil sardine.

In addition, they will be releasing 4 kinds of "Oil Charadine (Sardine)" recipes exclusively for this collaboration, which is perfect for Chara Aznable's main color of red. The recipes are for menu such as salad, pasta, and sake. Details of each recipes can be found on the official website and official Twitter page.

【Product information】
"Hagoromo & King Oscar Oil Sardine" x Char Aznable limited collaboration package
Price:320 yen
Packaging:105g(Solid amount 75g)
Selling stores:Supermarkets or Wholesale stores nationwide

【Campaign information】
<First campaign> "Can you meet Char?" Campaign
Period:May 14 (Thurs) to 18(Mon)
How to join:Follow "Oil Chardine" official Twitter account, retweet the targeted tweet and reply to "special movie" on that official account. In the video, if you meet Char with "Oil Chardine" at the end of the bar door, you will win, and you will receive "Limited Gift Box with 6 Oil Chardin". As a winning chance, you can get "Zaku Zugok limited poster 2 sheets set" which is newly drawn by Sunrise.
Prize:
"Limited Gift Box with 6 Oil Chardine" for the total of 100 people
Zaku Zugok limited posters for the total of 50 people
*Prizes are subject to change.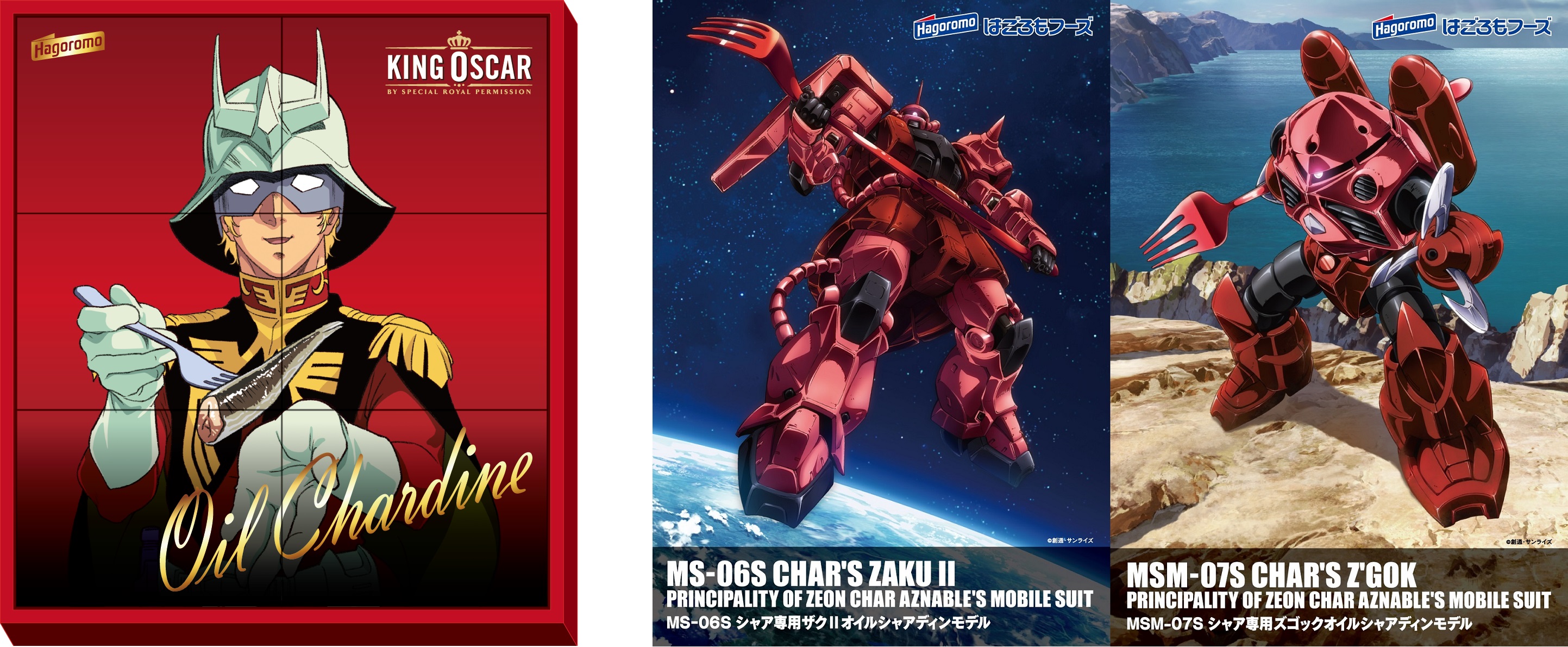 <Second campaign> "#OilChadineQuote" Campaign
Period:May 19 (Tues) to 31(Sun)
How to join:When you follow the official Twitter account of "Oil Chardine" and retweet the targeted tweet with hashtag "# OilChadineQuote", and reply to all 10 tweets of "Oil Chardine Quotes" that parody Char Aznable's famous dialogues. Winners will be chosen randomly and will receive a signed poster by Shuichi Ikeda, a voice actor of Char Aznable, or a newly-created "Zaku Zugok Limited Poster 2-Pack".
Prize:
「Shuichi Ikeda signed Poster」for total of 5 people
「Zaku Zugok Limited Poster 2-Pack」for total of 50 people
*Prizes are subject to change.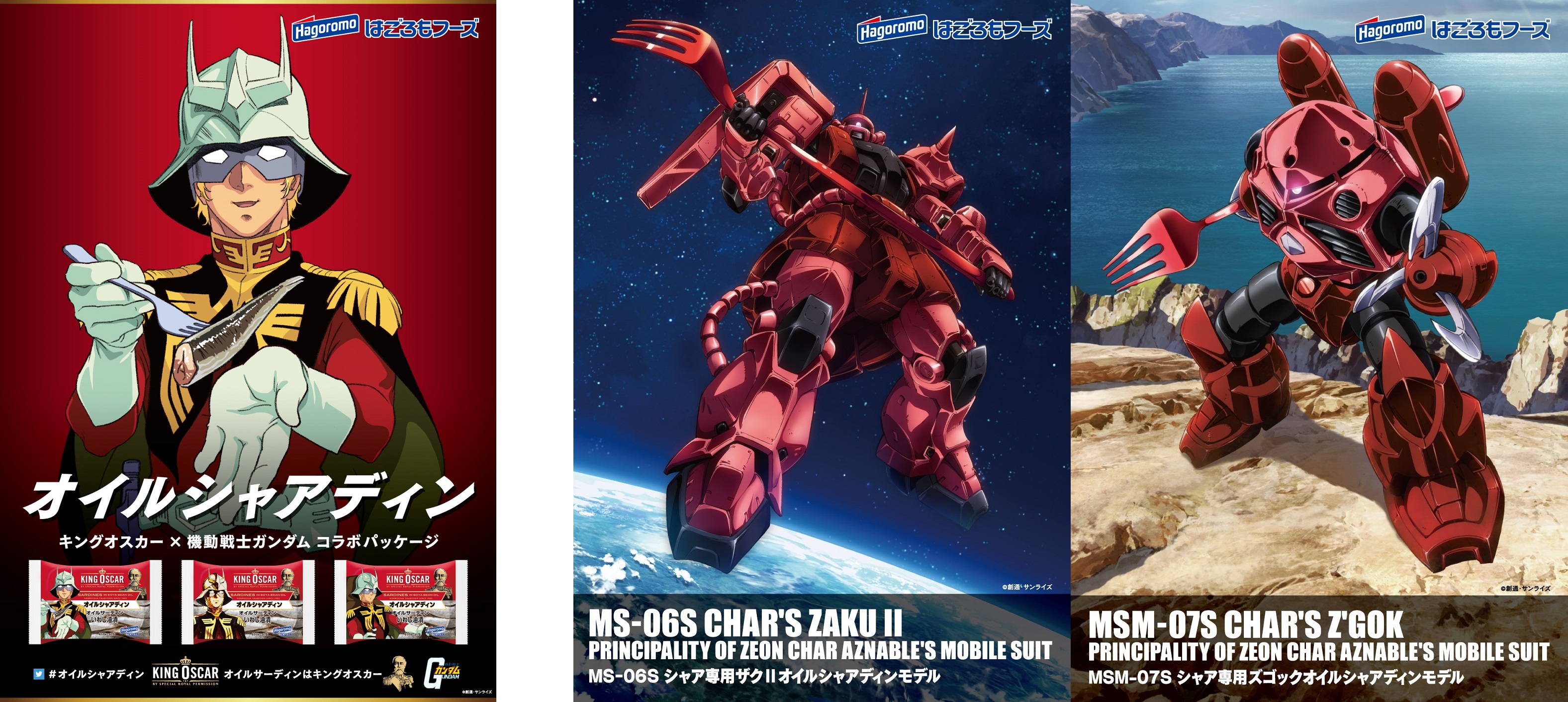 Reference
・「Oil Chardine」Official Website:https://www.promotion.hagoromofoods.co.jp/oil_chardine/
・「Oil Chardine」Official Twitter Page:https://twitter.com/oilchardine