Yamaya Communications, a manufacturer and distributor of Mentaiko (Spicy pollock roe), and Urara Cube will release "Yamaya Kingdom Lunchbox Series" for a limited time in late April in collaboration with popular anime "Kingdom".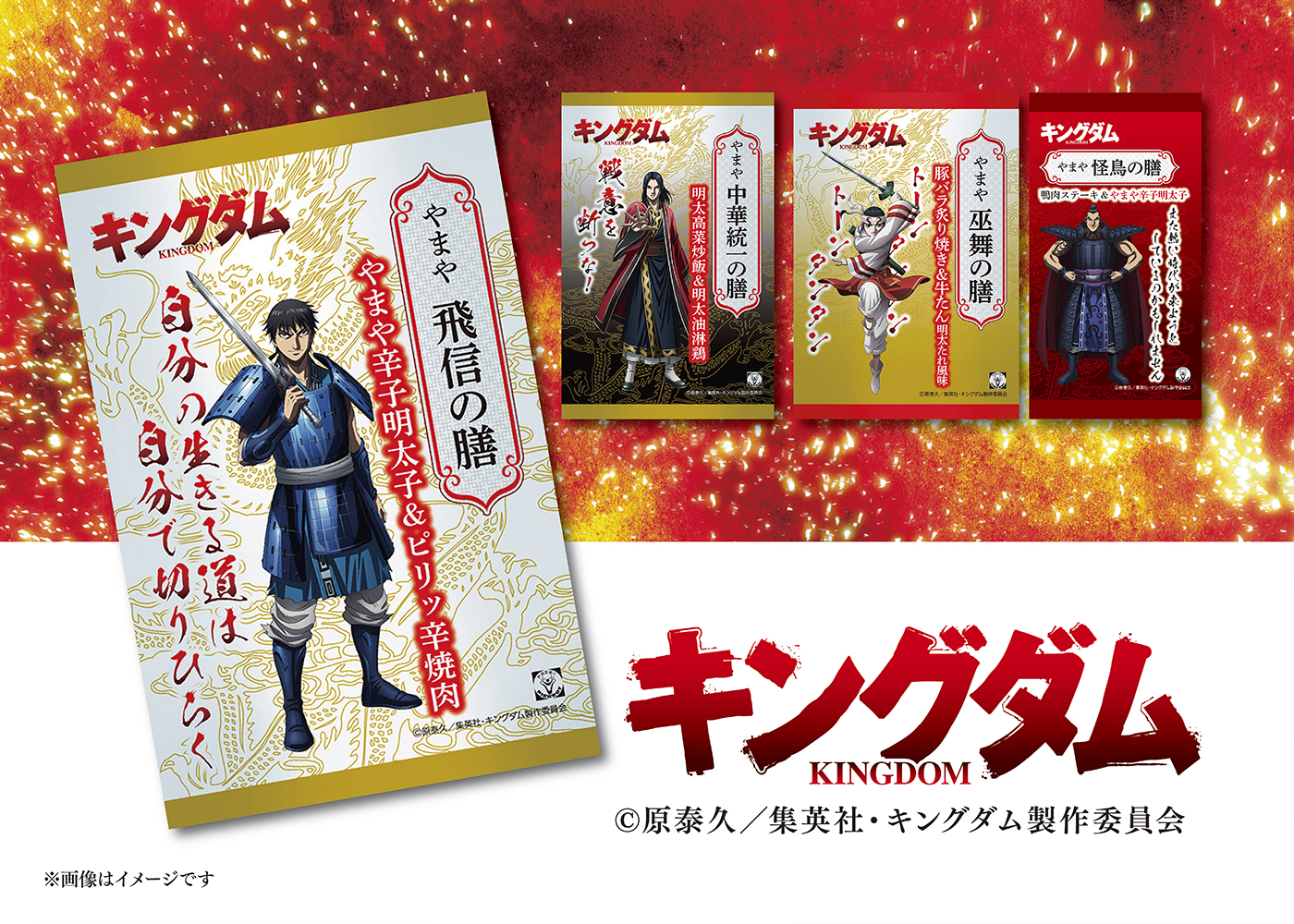 This is a collaboration between the anime "Kingdom," a popular anime with a wide range of generations of fans, and a boxed lunch using Yamaya's "Mentashi Kariko". This time, the limited-edition package that uses illustrations drawn for the "Yamaya Kingdom Bento Series" featuring popular characters such as "Shin", "Eisei", "Kyokai", and "Ouki", which are available in these 4 options. As a bonus, a clear bookmark with the four character lines will come with the lunchbox. Four types are randomly packed, one for each box.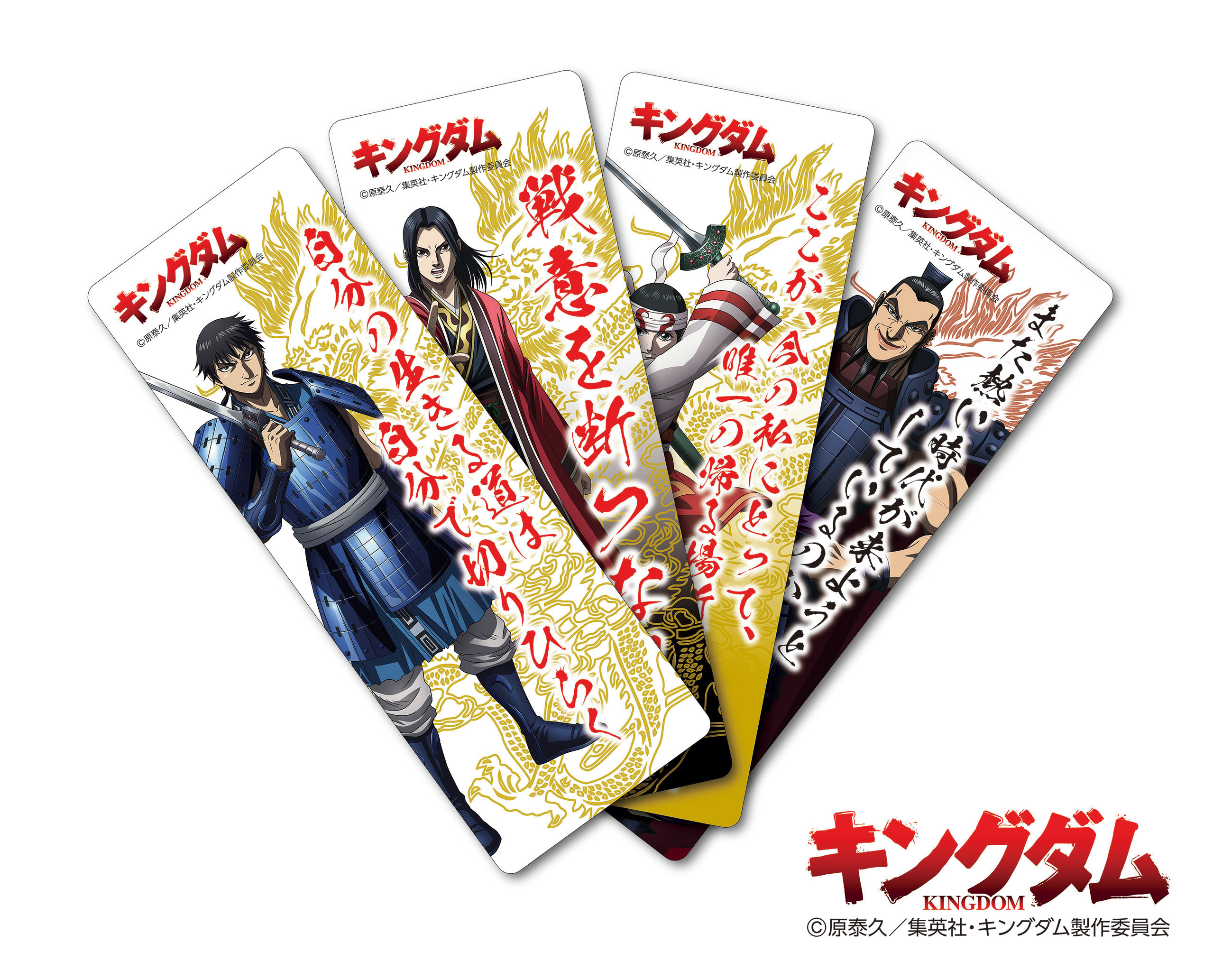 In addition, the lunch box sales area for each character is limited, and it is a promotion that will challenge the collective mind of all Kingdom fans.
【Product info】
Sales Date:End of April
<Tokyo/Kanagawa Limited Sales>
Location:Tokyo Station, Shin-Yokohama Station, Haneda Airport
(1)Yamaya Kingdom Lunchbox "Yamaya Hishin Set" ~Yamaya Spicy Mentaiko & Spicy Yakiniku~
Price:1,480yen(tax included)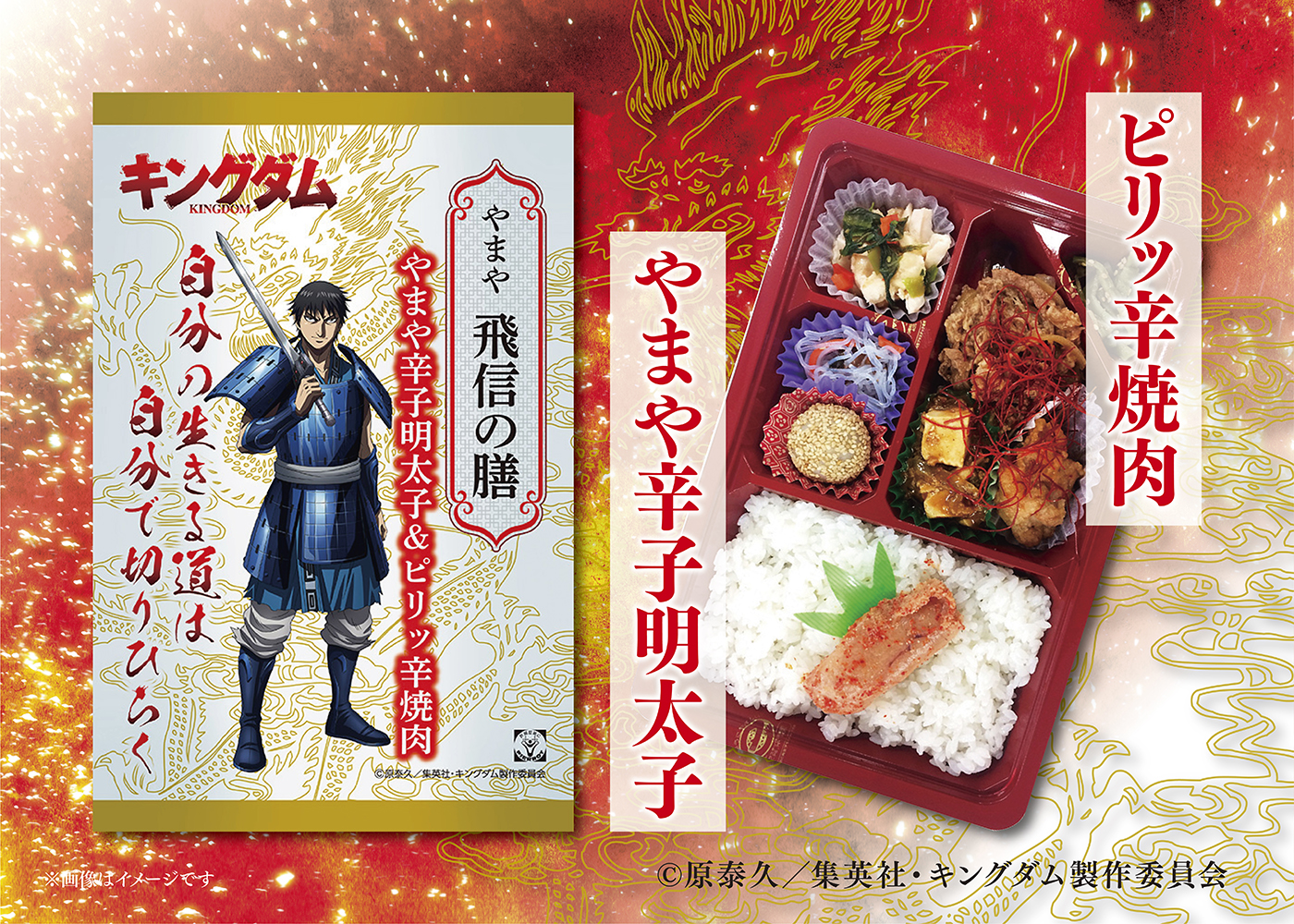 (2)Yamaya Kingdom Lunchbox "Yamaya Chinese Unzen Zen Set" Menta-Takina Fried Rice & Menta-Ya Gogi
Price:1,480yen(tax included)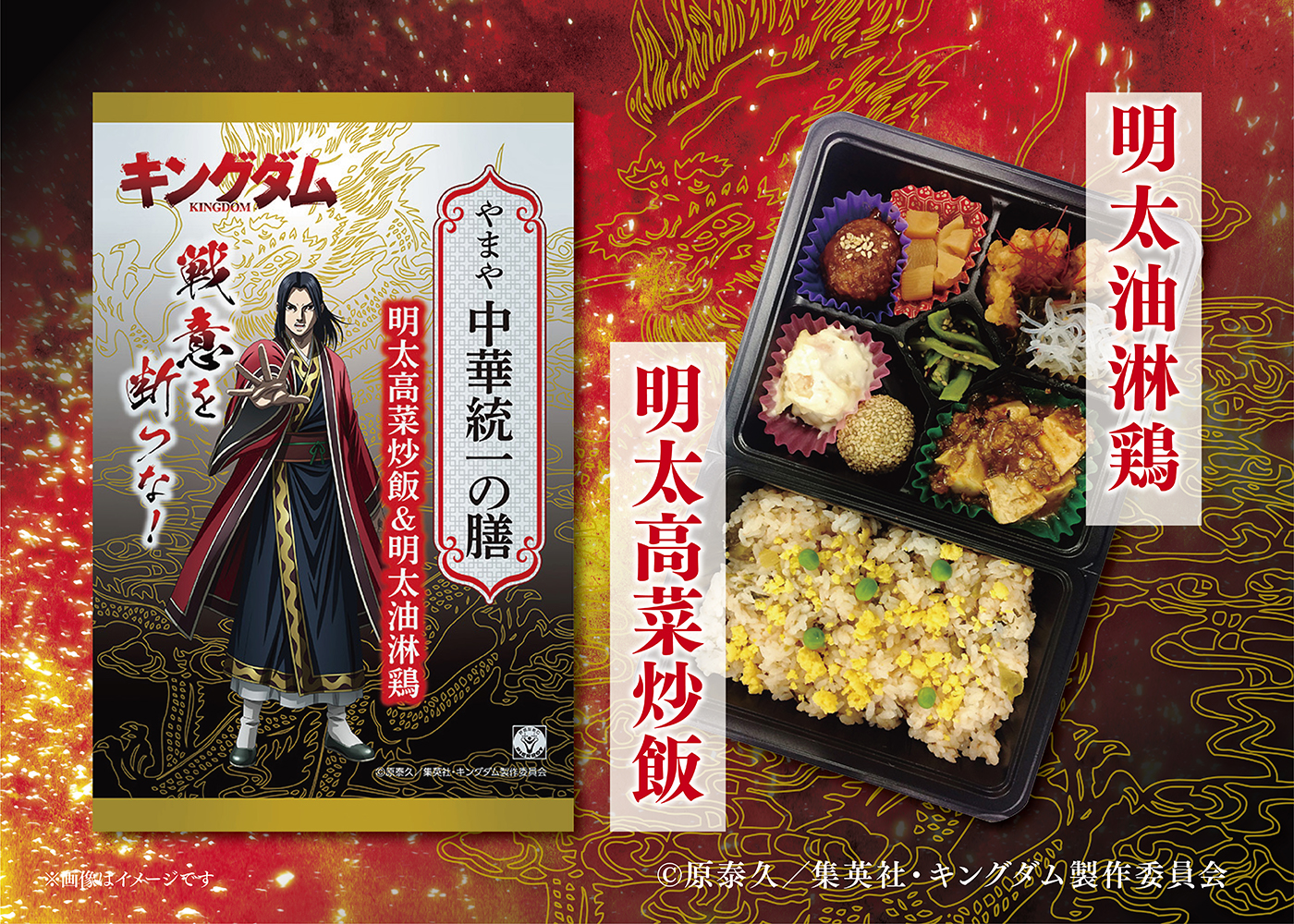 <Kansai Limited Sales>
Location:Shin-Osaka Station
(3)Yamaya Kingdom Lunchbox "Yamaya Maizome Zen" Roasted Pork Rose & Gyutan Mentare Flavor
Price:1,450yen(tax included)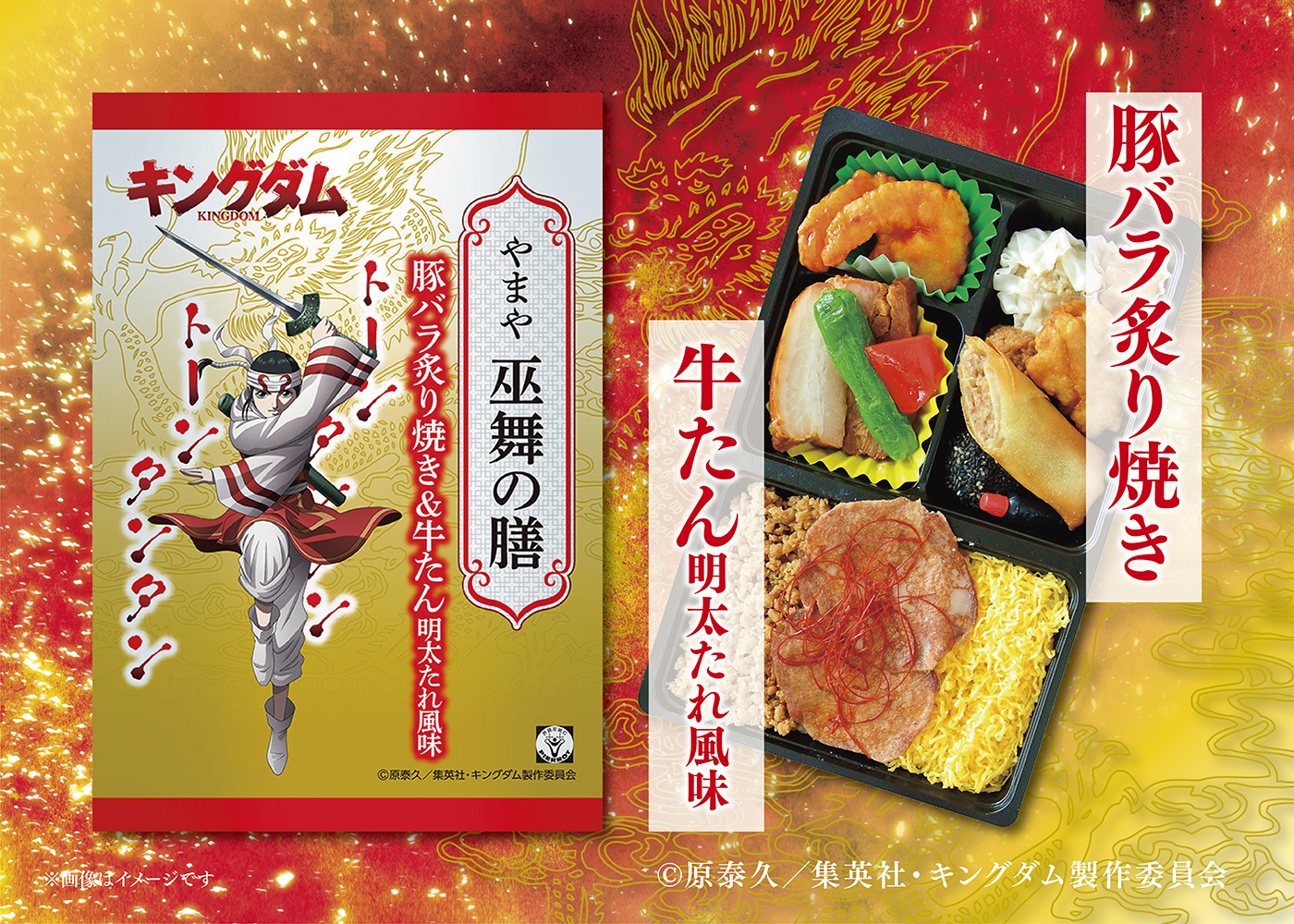 <Fukuoka Limited Sales>
Location:Hakata Station, Fukuoka Airport
(4)Yamaya Kingdom Lunchbox "Yamaya Kaizen no Zen" Duck Meat Steak & Yamaya Kishi Mentaiko"
Price:1,450yen(tax included)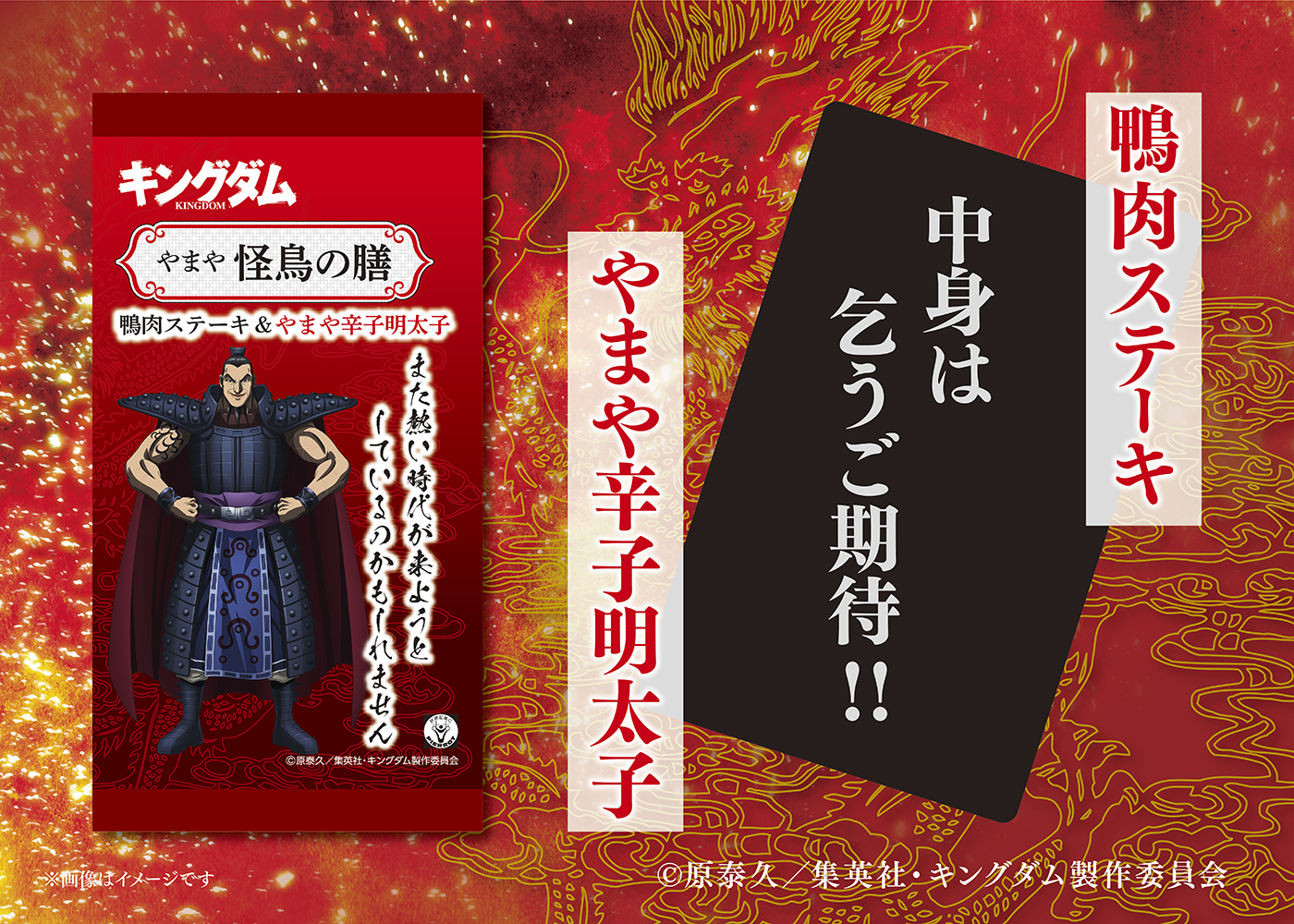 Purchase Bonus: Clear bookmark* All 4 types randomly included
Seller:Yamaya Communications
Planning:Urara Cube
Reference
https://www.yamaya.com/corporate/